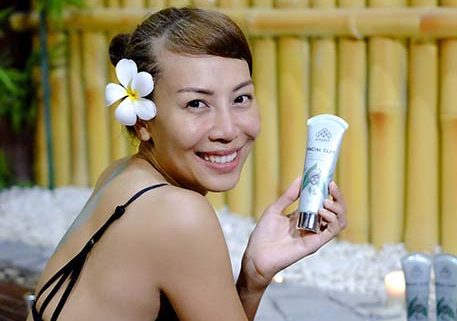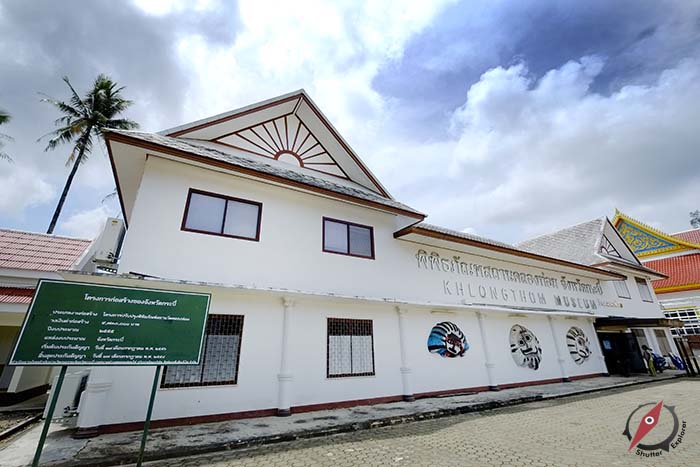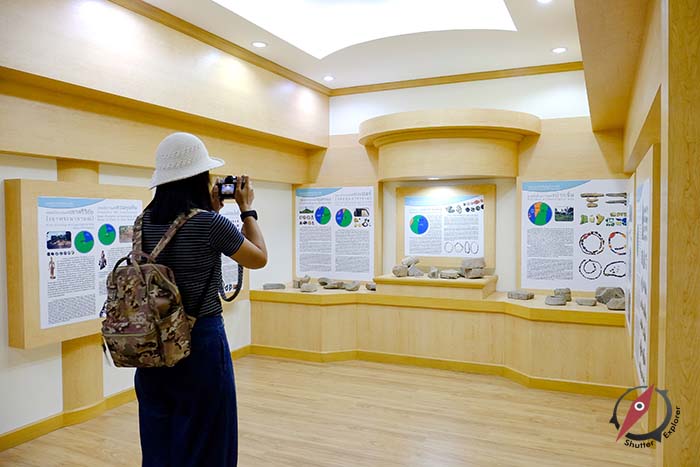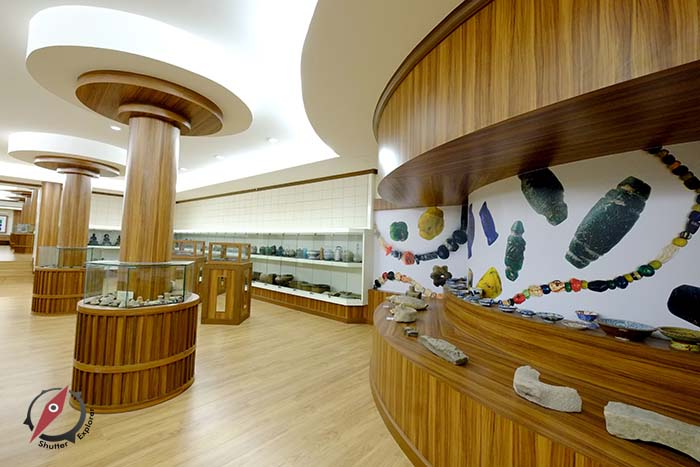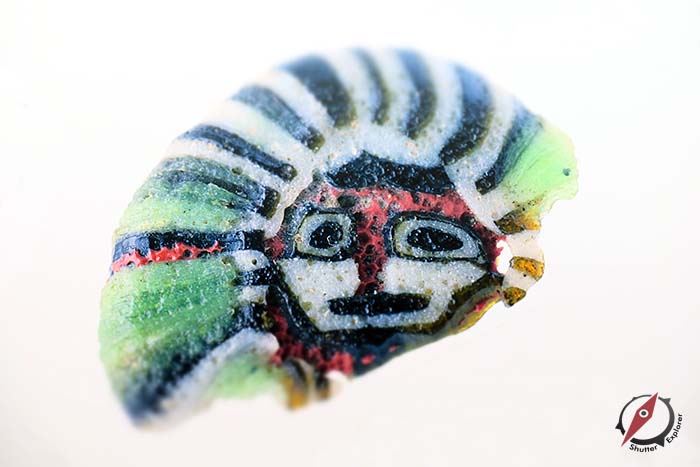 I continue my wonderful trip in Klong Thom Spa Town to Klong Thom Tai Sub-district (ต.คลองท่อมใต้) famous for their ancient beads trading center among Andaman's Malaya Peninsula, archeologist unearth thousands of antiques especially the ancient beads in variable shapes, colours and materials. The Suriyathep Bead (ลูกปัดสุริยเทพ) is the most famous among all because its found not more than 100 pieces around the globe so its cost higher than million baht each! I need to see it with my own eyes, then I visited Klong Thom Temple (in Thai วัดคลองท่อม).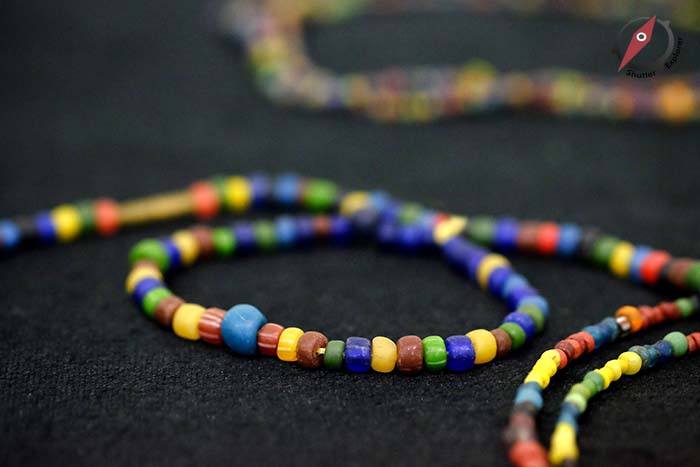 Klong Thom Museum located in Klong Thom Temple, here i can enjoy the fine collection of 2,000-3,000 years ancient bead around the world such as from Persian, Roman Empire, Southern India, etc. However, the most outstanding ancient bead of Klong Thom is the colorful glass bead which produced in top secret process and trading around the world for 2,000-3,000 years ago.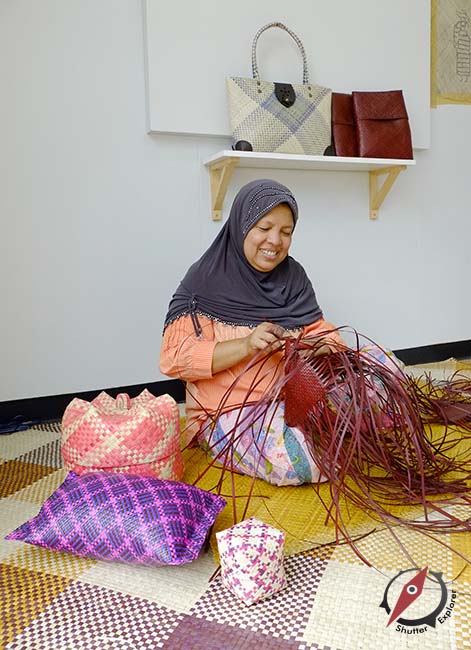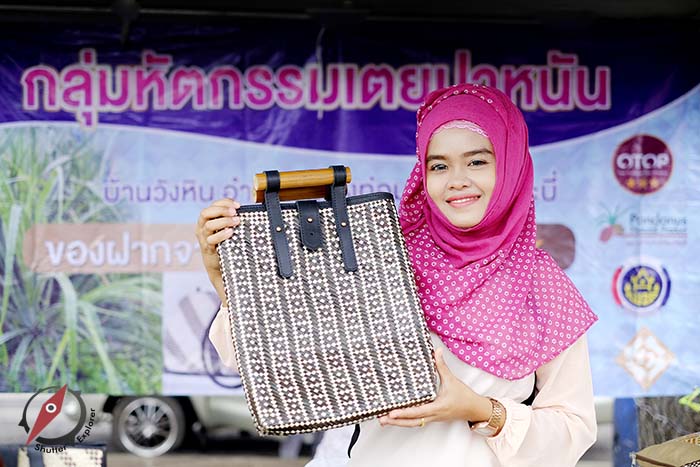 One hour in Klong Thom Museum is never enough for me but I should move to the next destination 'Wang Hin Pandanus Weaving Craft Center' (กลุ่มหัตถกรรมเตยปาหนัน บ้านวังหิน) in Klong Thom Tai Sub-district, one of the most famous Islamic weaving style in Krabi. The villagers at the weaving center show their warm welcome smile and hospitality, then show me the pandanus (เตยปาหนัน) weaving process starting from the fresh pandanus leaf collecting as first step, then transform it to a countless tiny fiber, coloring the fiber, drying and the most difficult step is weaving its with local patterns creating various kind of gift & handicraft for tourist, such as mat, hat, wallet, bag, basket, tablet case, etc. The developing of better processing and modern weaving pattern matching the tourist's lifestyle, hence villager can sell a high quality souvenirs made by their hands – head – heart.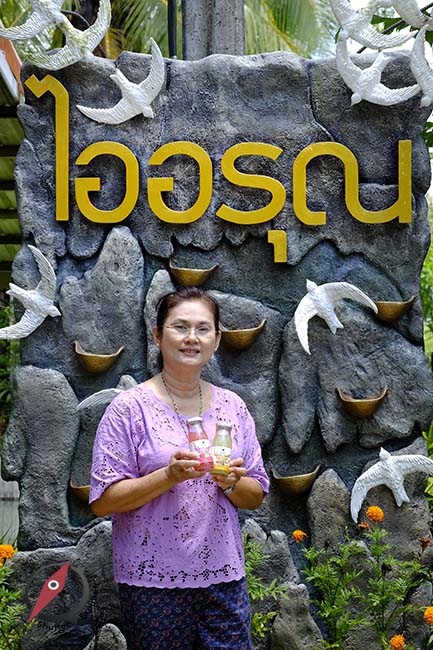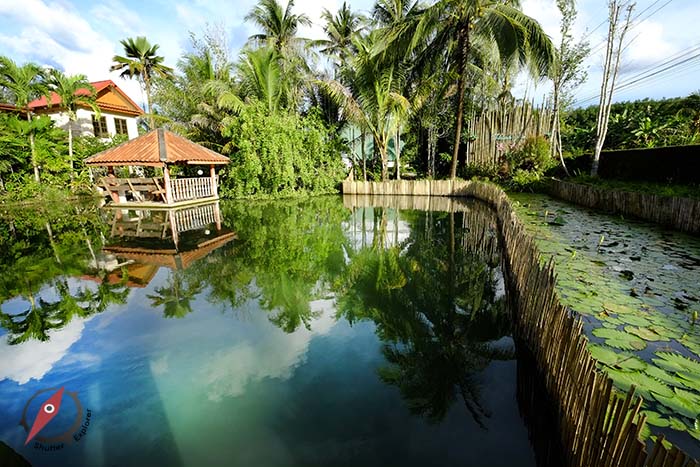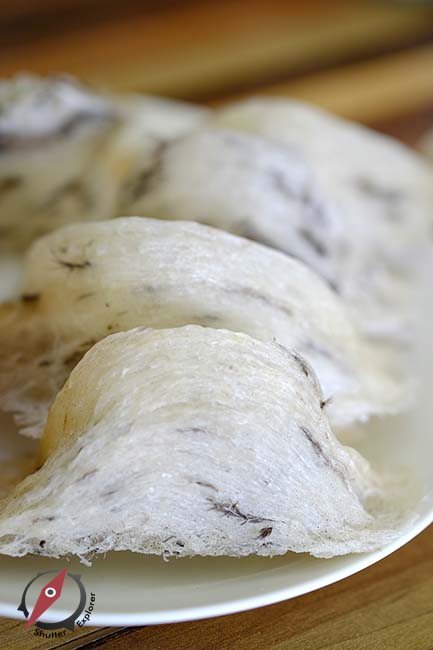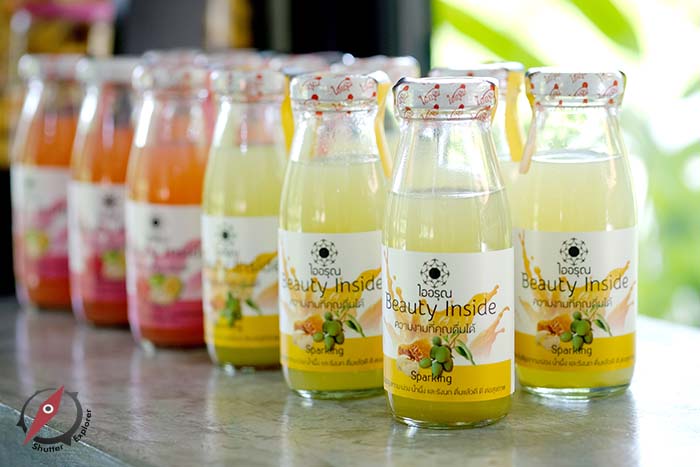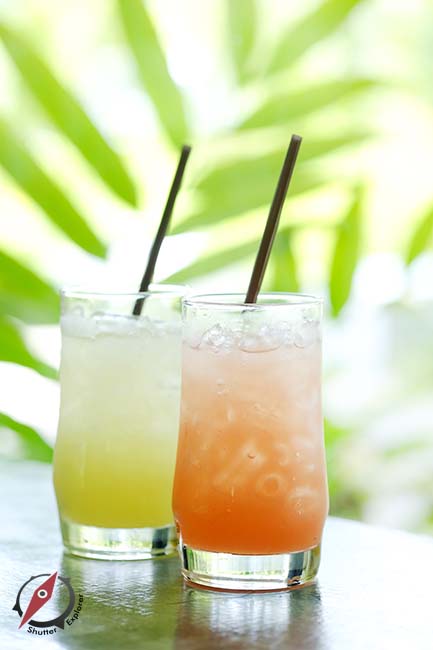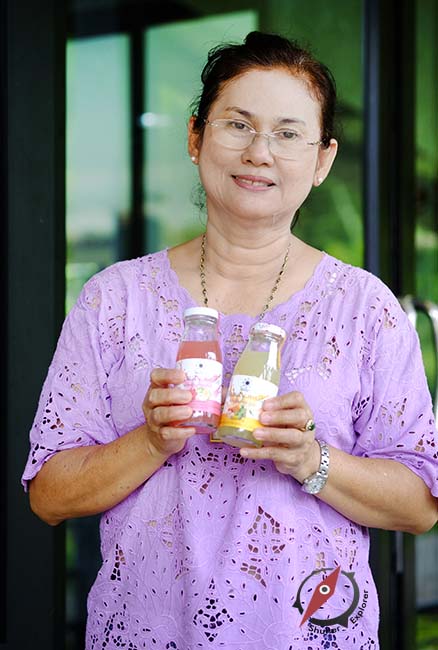 Not far from the Pandanus weaving center in Klong Thom Tai Sub-district, I take a short break at a small special restaurant with air conditioning 'I Arun Rang Nok' (ไออรุณ รังนก). Here I can enjoy the peaceful atmosphere among greenery garden with true southern Thai food recipe, beside I can taste high quality Bird Nest Beverage made from swallow's nest collected from both natural and bird nest farm in Klong Thom Spa Town. Good news is they have a new products 'Beauty Drink' made from natural herb around here. First one is 'Sparkling Ma Muang Bao Drink' (น้ำมะม่วงเบา) produce from a local mango breed grows in this area, we calls Beauty Drink because its contained a lot of anti-aging extract, vitamin, honey and mineral water of Klong Thom Spa Town itself. The second latest product is 'Dala Blossom Drink' (น้ำดาหลา) process from Dala Flower one of Zingiber family plant, mixed with mineral water, bird nest and Garcinia (ส้มแขก) contained high quantity of antioxidant and anti-aging extract.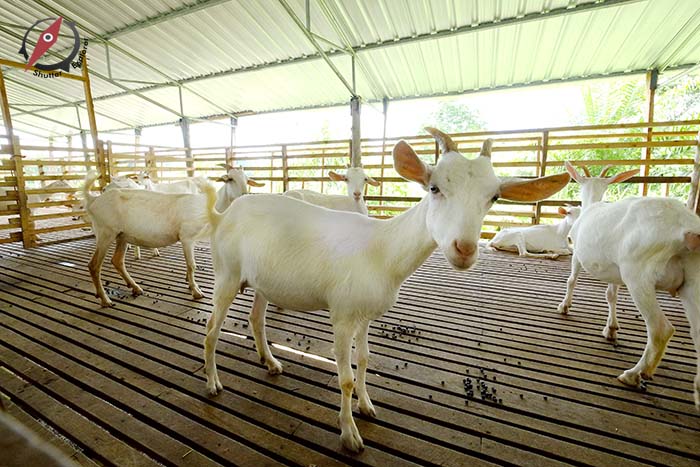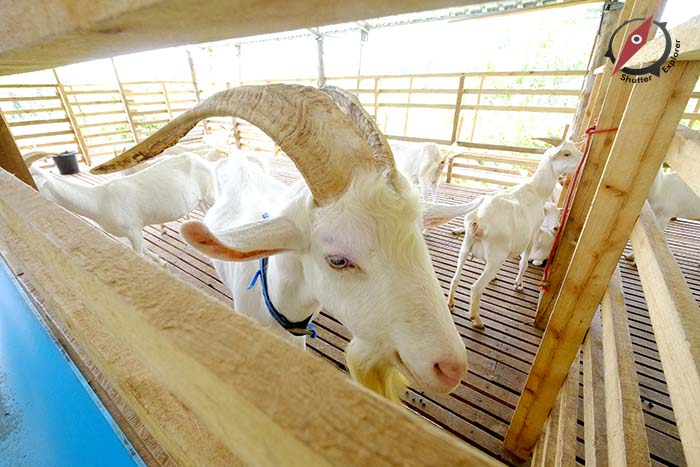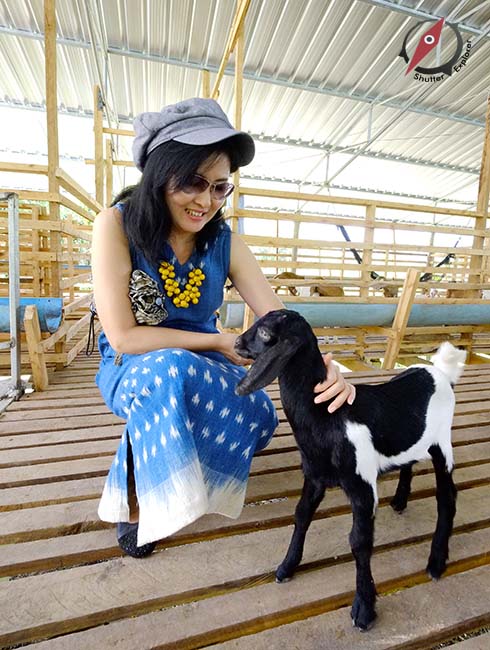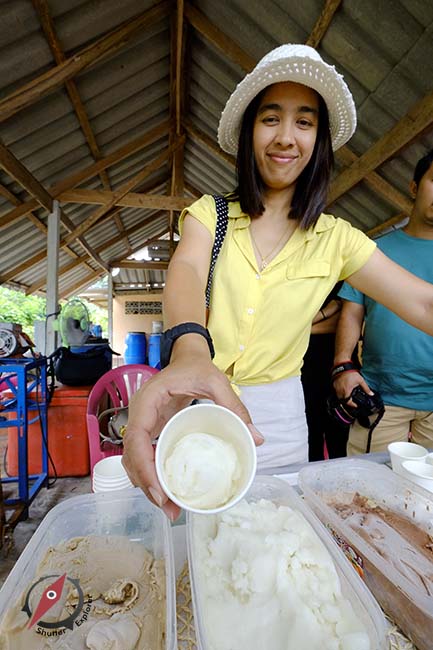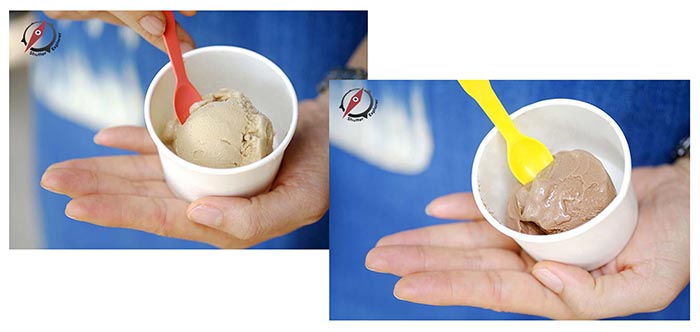 I continue my trip in Klong Thom Tai Sub-district to 'Goat Farm Small Enterprise Klong Kanan Taew Raew' (วิสาหกิจชุมชนเลี้ยงแพะ คลองขนานแต้วแร้ว), the new attraction for tourist in Klong Thom Spa Town. The owner of this goat farm is so friendly, they invite me to see their business and feeding milk to baby goat at the first place. Next is what i can't miss, Goat Milk Ice Cream Testing, ha ha ha! The 3 flavours they provide are Coffee-Cashew Nut Flavor, Banana-Cacao Flavor and Passion Fruit-Honey Flavor. I cannot tale which one I like most, because I prefer all! The Goat Milk Ice Cream is good for the one who allergy to Cow Milk, therefor you can easily enjoy the fine texture of soft ice cream containing high protein and calcium in very low fat rate.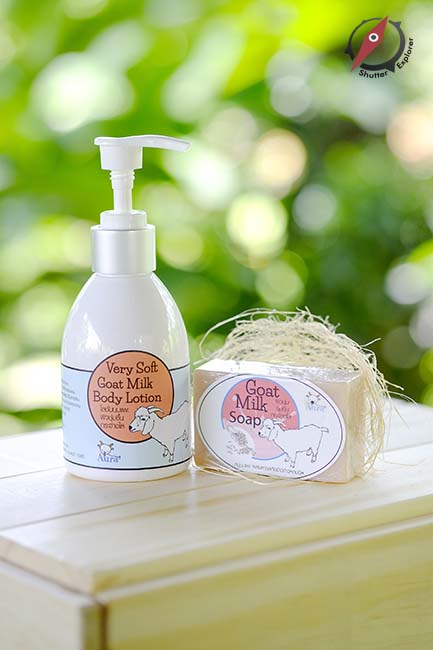 Not only the Goat Milk Ice Cream but many more spa produces process from goat milk invented in Klong Thom Spa Town, such as 'Nourishing Sun Bright SPF 50 PA++' with BB cream and waterproof performance, this nourishing cream can relief facial dark spot and make your face soften like a baby. Next is 'Goat Milk Body Lotion & Soap' mixed from natural herbal and local organic rice contained high degree of vitamin and protein, can soften and brighten up your skin, moreover it could reduce melanin spot and acne, so you can feel free for your routine make up and the beauty.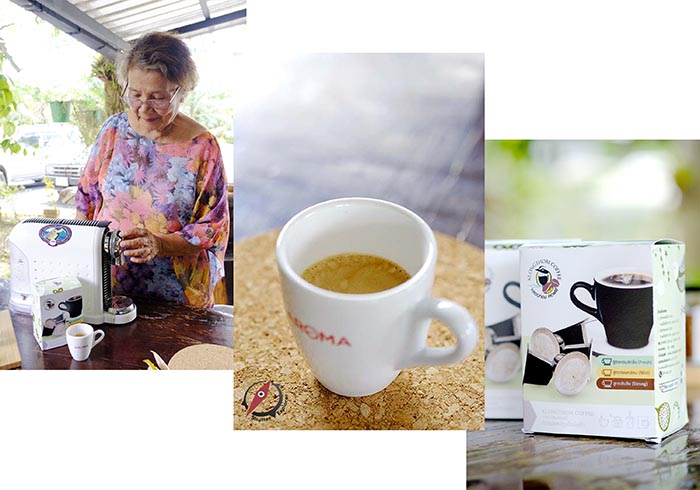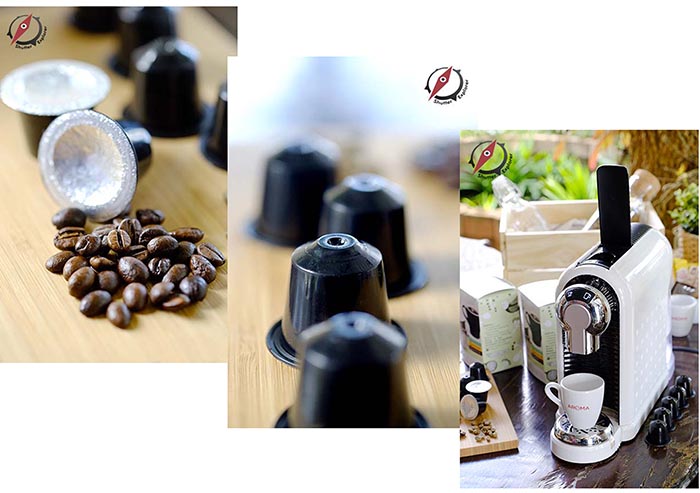 While the weather is quite hot in the afternoon, I need somewhere to cool down and relax in Spa Town. 'Klong Thom Coffee' is one place I can enjoy good coffee by local people, so the best way to prove is tasting it, right? The latest 3 capsule coffee blended I found here are 'The Original' (Robusta 100%), 'Medium Strong' (Robusta 80% Arabica 20%) and last one is 'Strong' (Robusta 50% Arabica 50%). This capsule coffee can easily prepare with a small machine, no need for any assist from professional Barista, hence the organic coffee of Klong Thom is now transform to the new era for Coffee Lover. Then I order Medium Strong Coffee to taste, YES I LOVE IT.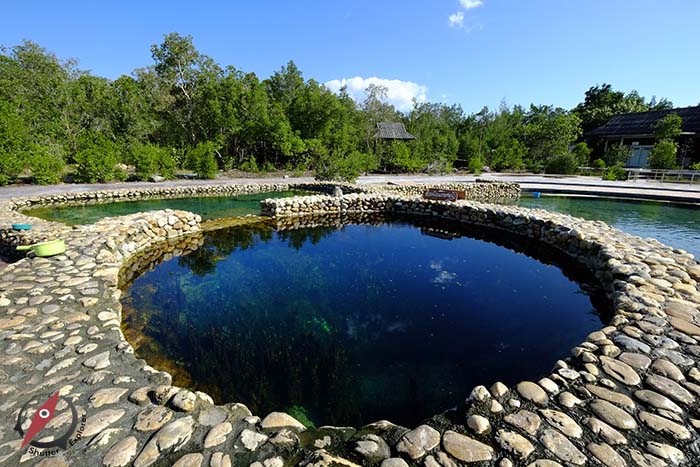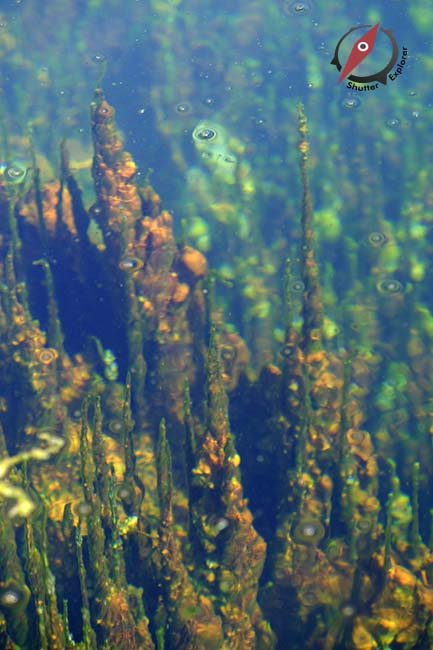 Now I heading to Huai Nam Khao Sub-district (ต.ห้วยน้ำขาว) of Klong Thom Spa Town, where I plan to overnight and discover the most special hot spring in Thailand, 'Saline Hot Spring' (in Thai น้ำพุร้อนเค็ม) an unseen natural hot spring which local peoples believe in its natural healing power. This Saline Hot Spring is one of the 'Big3' in Klong Thom Spa Town : The Emerald Pool, The Hot Waterfall and Saline Hot Spring, like the main flagship of wellness tourism attractions in Klong Thom nowadays. Saline Hot Spring is so special because its very rare founded around the globe, the thermal water of 40-47 degree Celsius containing with multiple effective minerals good for our body both external and internal healing. Someone believes that Saline Hot Spring can cure from skin problem, bone disease and Rheumatoid, therefore lot of patients choose here as their longstay alternative way of therapy.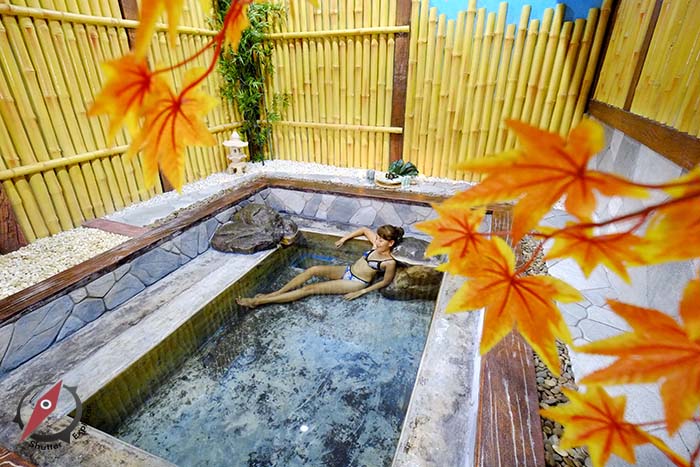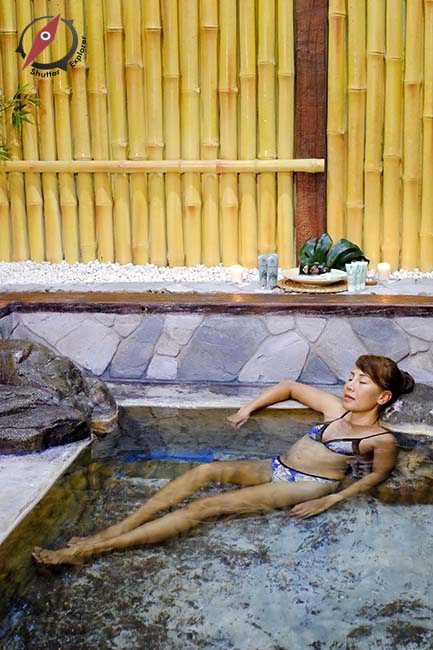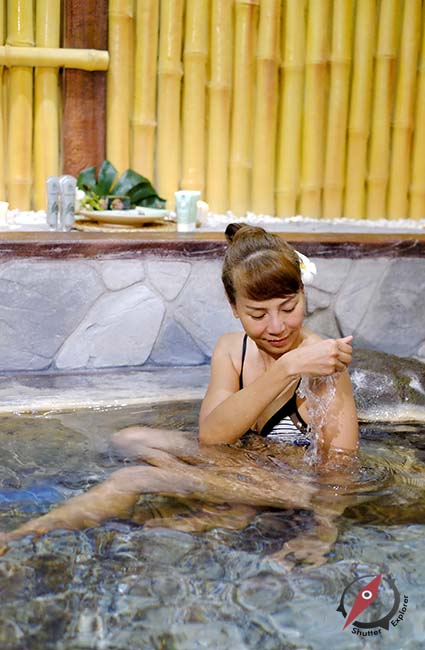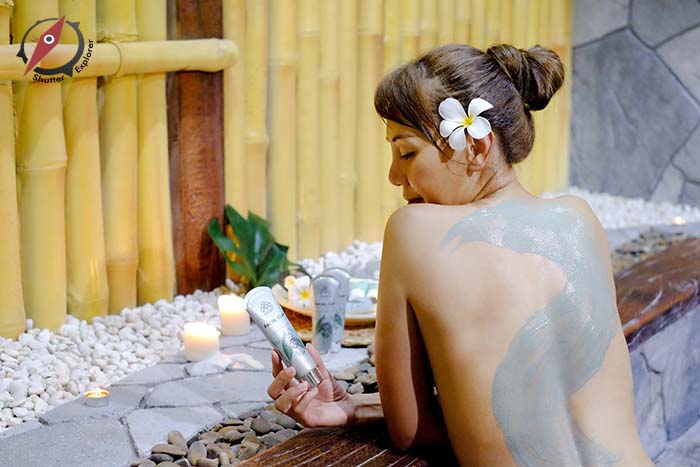 This is my turn to touch the Saline Hot Spring with myself in a luxury private pool of SHS Resort close to the original source of Saline Hot Spring, I feel so relax while the whole body dipping into the hot mineral water as MIRACLE WATER indeed !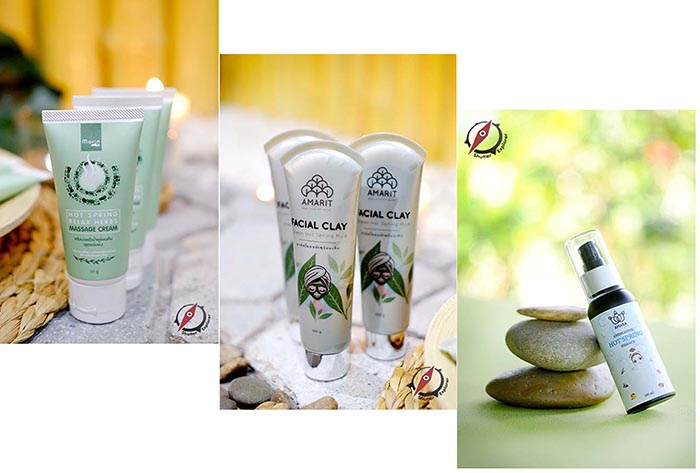 The latest premium spa products from Saline Hot Spring introduced to wellness & beauty market is made from Amaritha Co., Ltd. such as, 'Hot Spring Chlorophyll Fresh Mask' produced from white natural clay in rich minerals substance, good for facial nourishing, soften & brighten up the skin and baby-face like because of very high extract of Lumnitzera (เสม็ดแดง) chlorophyll, green tea and Melaleuca oil (น้ำมันเสม็ด) combined. Next is 'Hot Spring Relax Herbal Massage Cream' blended from Melaleuca oil and Cassumunar Ginger (ไพล) perform deeply muscle relief quality. Last one is 'Energizing Hot Spring Essence' for daily refreshing mineral spay to our face and soften facial skin.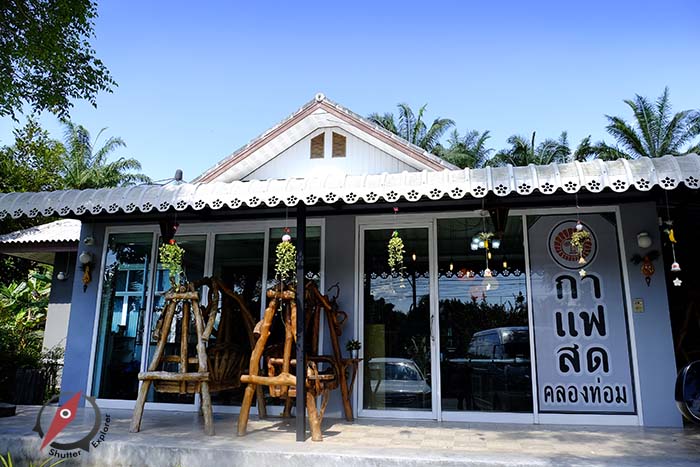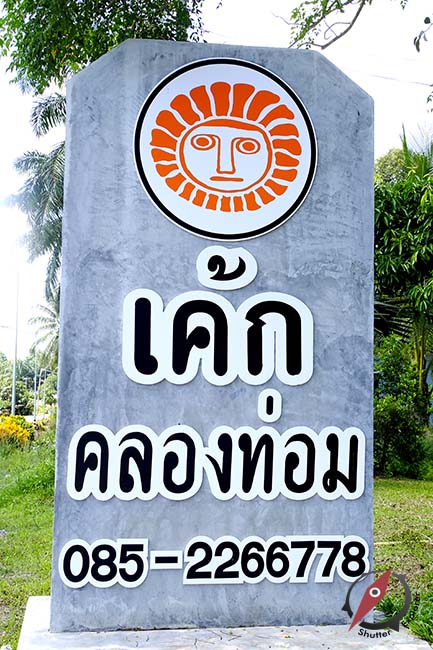 Still roaming around Huai Nam Khao Sub-district, I found a small bakery shop with various kind homemade sweet, cake and yummy ice cream. 'Klong Thom Cake' is its simple name and the shop's logo apply from Suriyathep Ancient Bead reflected original root of Klong Thom Spa Town.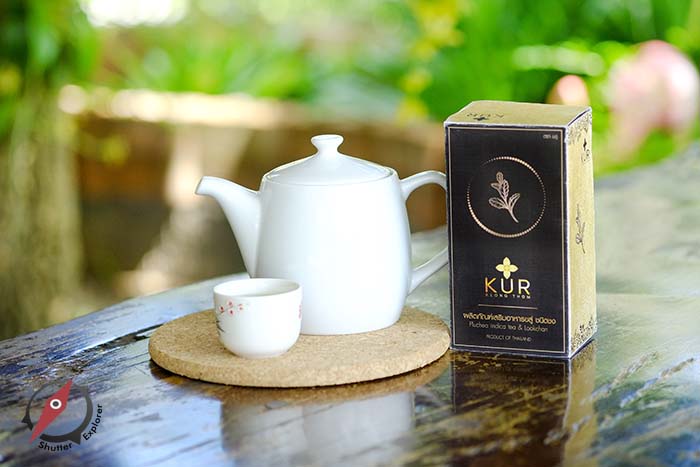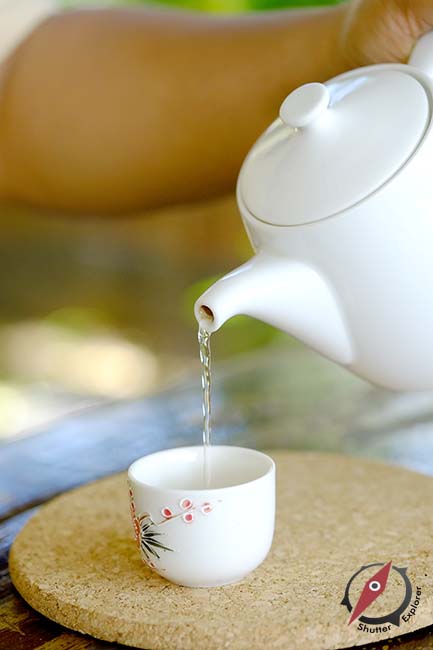 Plenty of delicious & healthy menu I can find here, such as 'KUR Herbal Tea' (ชาใบขลู่) made from Indian Marsh Fleabane (ต้นขลู่) plant abundantly grows in this area, the tea is blended from Nutmeg Seed (ลูกจันทน์) with high Beta-Carotene, Gac Fruit (ฟักข้าว) contained with high calcium and lycopene good for blood pressure reducing and active as an Anti-Aging Drink.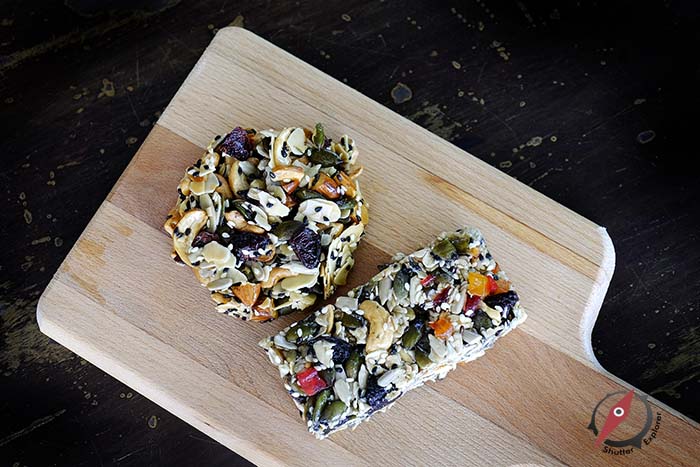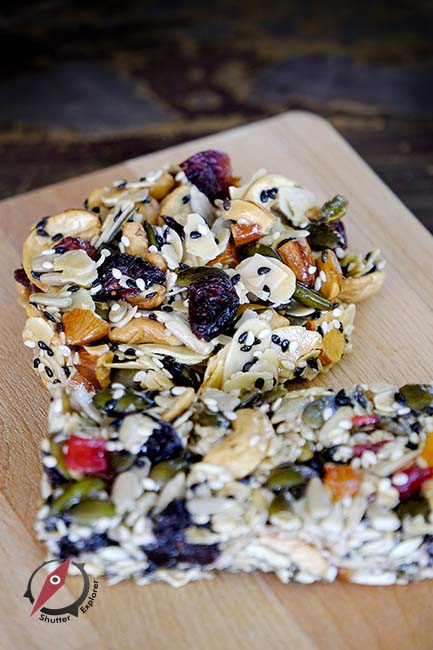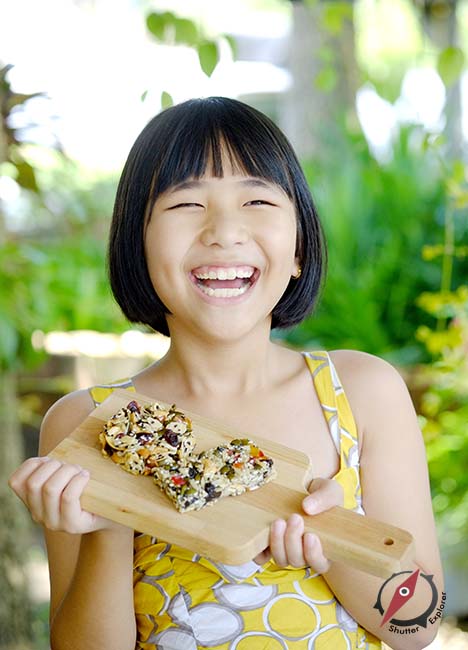 Next is 'Healthy Cashew Nut Cereal' the big bar of cereal mix up with Cashew Nut (เม็ดมะม่วงหิมพานต์), White Sesame Seed (งาขาว), Nut (ถั่ว), ลูกเกด (Raisin), honey etc. which all of this can fill up our stomach in 1 or 2 pieces only, unbelievable!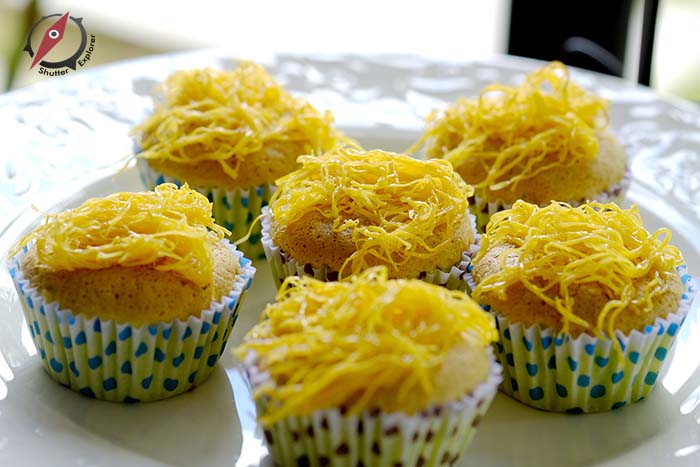 Now is a 'Fancy Golden Cake' the traditional sweets present in cup cake-like, noted for its very soft texture and nice sweet taste. A perfect couple with KUR Tea, I think.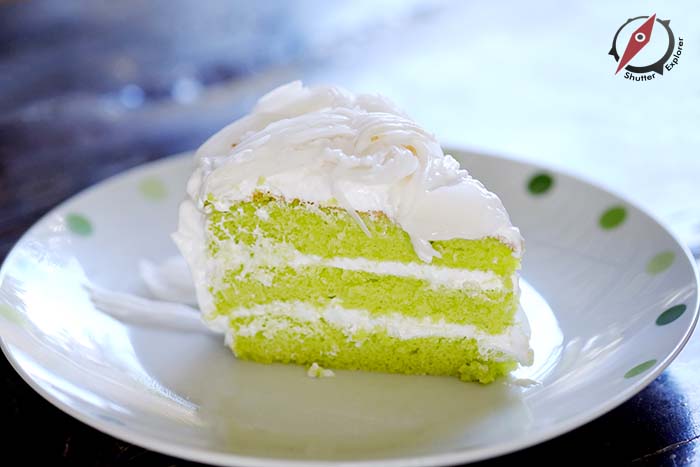 Recommended menu here is a 'Pandan Cake with Coconut on top' famous for its very fine texture as cotton-like body cake with the Pandan aroma while chewing, and finishing with the crispy fresh coconut layer on top. WOW! Can't wait anymore!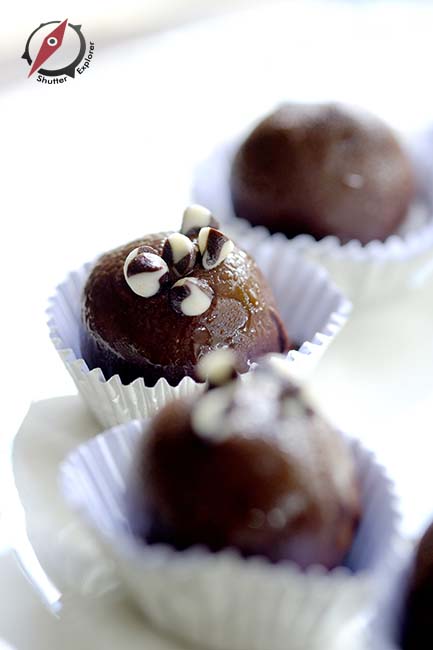 Another perfect couple with any kind of tea or coffee is a 'Choc-Balls' which make me feel refresh by its deep dark chocolate taste and dense layer cake ready to make me happy while chewing!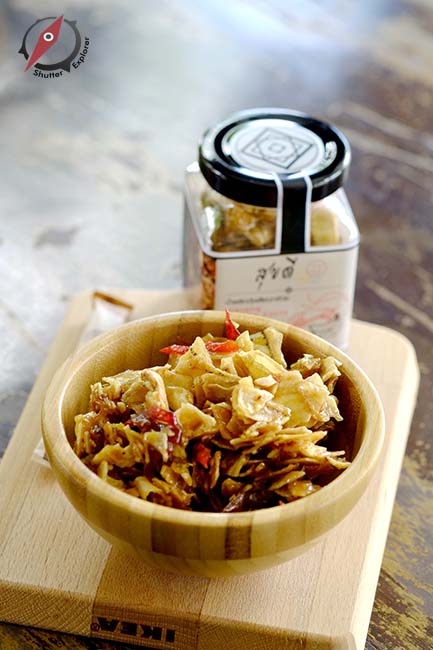 The new local snack just launch to the customer here is a 'Shrimp & Banana in Chili Paste', the perfect blended of dry tiny shrimp with Kluai Hom Thong Banana (กล้วยหอมทอง) abundantly grows in Klong Thom, mix up with local chili paste call 'Nam Prick Kung Seab' (น้ำพริกกุ้งเสียบ) one of the most famous chili paste in Krabi. The snack presented in a very crispy shrimp & banana coated with sweet, sour, salted and a bit chili taste blended in a perfect proportion.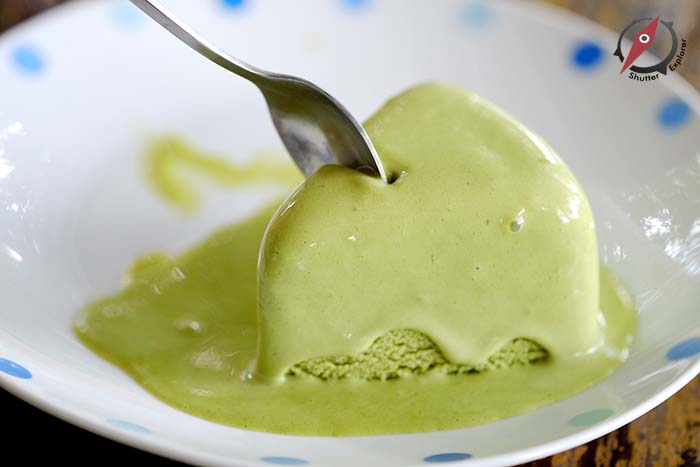 And the last but not least is a 'Green Tea Ice Cream', serving in a triangle shape as a cake-like. If you been to a Japanese restaurant before and use to try a cup of Green Tea Ice Cream there, I can tell you that Klong Thom Green Tea Ice Cream is not different !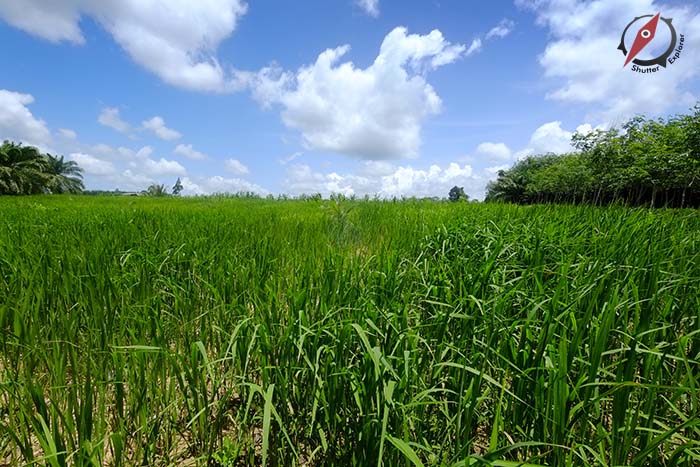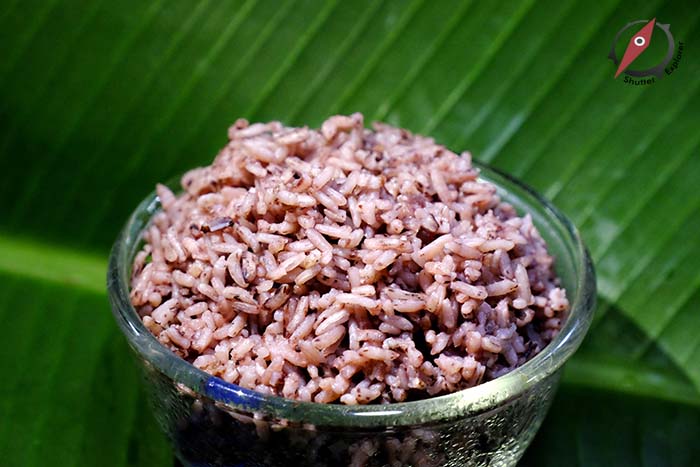 Last destination I've been visited in Klong Thom is Phe Lha Sub-district (ต.เพหลา) located in the northern most of Klong Thom area, dominant by vast paddy field with the Learning Center. Their organic rice is call 'Kao Rai' (ข้าวไร่) growing appropriately on the high ground by natural precipitation, therefore Khao Rai can grows and harvest once a year. Moreover, this Learning Center can kept a lot of local rice biodiversity, such as Kao Dhok Kha (ข้าวดอกข่า), Kao Dhok Pha Yom (ข้าวดอกพะพยอม) and Kao Chor Mai Pai (ข้าวช่อไม้ไผ่), etc. which all of these are very healthy organic rice breed.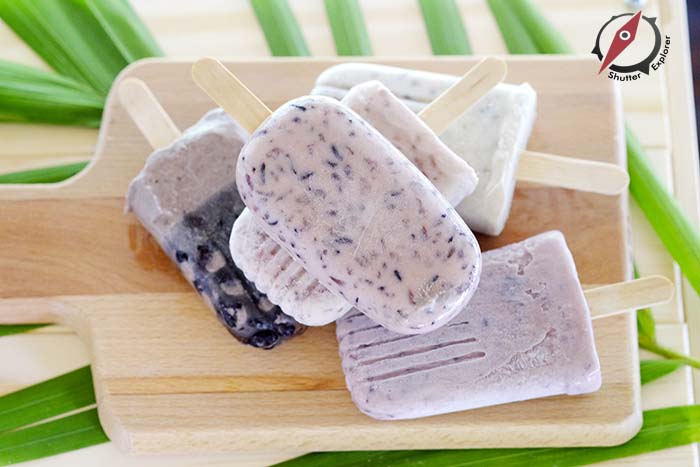 After visited Kao Rai plantation and back to the Learning Center, I can taste the healthy ice cream in 4 flavors process from organic Kao Rai, which is Green Bean Flavor, Black Bean Flavor, Hom Nil Rice Flavor and Kao Rai Flavor. I cannot judge which one is the best because I like all natural flavor mix up in this ice cream. So I bought to my friends as well.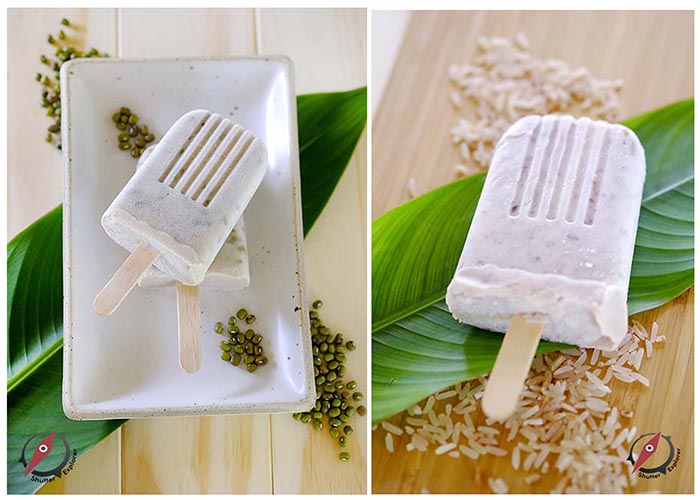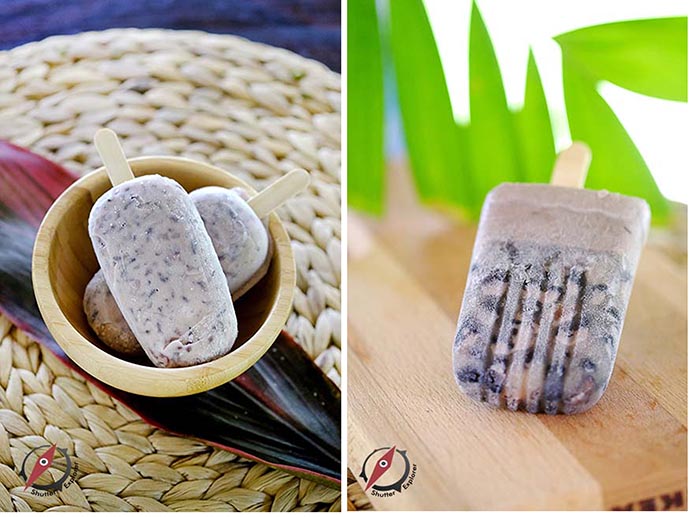 Time rapidly run out for this trip, may be because I can enjoy with the hot spring, the spa products, the hospitality of the villagers, the green atmosphere and all delicious cuisine. When we happy, time goes so fast! But countless memorable good pictures in Klong Thom still in my mind, this is the place where wellness concept and tourism activity perfectly blended.
I fall in love with Klong Thom Spa Town, the Happiness Never Ended here, I believe!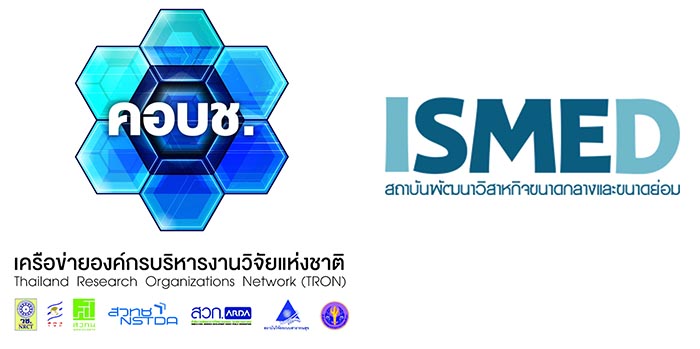 http://shutterexplorer.com/wp-content/uploads/2018/05/t41.jpg
650
457
chaton chokpattara
http://shutterexplorer.com/wp-content/uploads/2016/09/Shutter-Explorer140.png
chaton chokpattara
2018-06-15 10:52:43
2018-06-15 11:37:16
Happiness Never Ended @Klong Thom Spa Town (Episode 2)